One of Us – Lauriane Mölls
In the 'One of Us' series we like to show you a little behind the scenes of DesignRepublic: of course we are a company that offers 'Creativity that Sells', a company that creates great branding and packaging projects, but above all we are a company based on a team. And our team consists of great individuals all with their own personalities, dreams, passions and sorrows…. and that is why we are together more than the sum of the individuals.
So let's have a little talk with Lauriane, our graphic designer who joined DesignRepublic since July 2020, in the mids of the pandemic. One of her passions are comic books, and she is in the process of designing one herself called 'Lama'.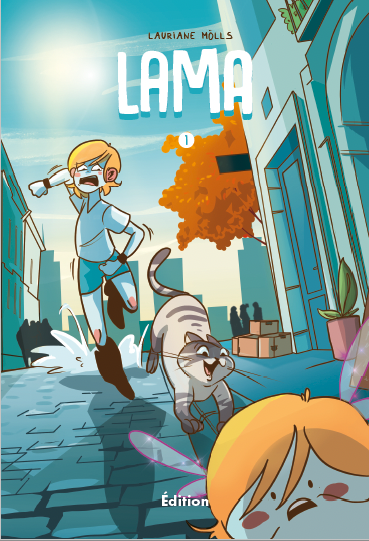 What does Lama mean? What does Lama stand for?
Depending on who is in front of me, the story varies:
Sometimes I tell the truth: Lama was born at a time when I was extremely unwell and my mother had slipped a phrase from the Dalai Lama into my pocket: "It is in your heart that you must build peace".
Some time later, when I created my character, I called her "Lama" because I was going to tell again everything that would make me laugh and only get something positive out of it.
Otherwise and also for simplicity I prefer to say that it is a contraction of my first name Lauriane (La) and my name Mölls (ma).
Since when are u interested in comics?
My mother was an art teacher, she taught me drawing from a very young age. She also gave me access to her artists' books, comics and drawing materials. A consuming passion was born.
What role play comics in your life?
I have always loved telling stories and making people laugh. As I'm a very shy person, I quickly realised that it was easier for me to tell them in drawings, I love that moment when people come to the end of their reading and burst out laughing! (The reactions in real life).
How close / far is Lama from your real life?
Lama looks like me physically and is used to tell gags but everyone can relate to her, she tells everyday life stories that everyone has experienced.
Do you have a cat like Calisson?
Yes, and unfortunately I could make several albums with only her nonsense! 😀
Do you have a Lama belule?
I wish!! for the moment she only lives in my stories and on all the posts I leave to others.
What are your next steps with the Comic book?
I think I've reached a stage where I can send my portfolio to publishers, I just need to make time for it.
Do you have other hobbies?
I hate boredom, that's why I regularly change my activity, my sport. Once I understand how things work, I find it boring. Except for drawing and my work at DesignRepublic, no two days or creations are alike. Every client or story is different.
And how do you combine all this with your full time job?
It's a question of organisation, I get up earlier or I go to bed later. It takes me a bit of time but when you like it, you don't count 🙂
Lauriane and Lama are looking for an editor. Please contact us if you can help them!