DesignRepublic goes Korea!
In this edition of our blog we will cover culture, and more in particular K-Culture, or Korean Culture. Why is it that Korean culture has taken the west by storm? And how come that in a relatively short period of time Korean brands became so popular:
K-Pop is omni present, with groups like BTS and Blackpink gaining immense popularity. K-Dramas, with series like Squid Game and Beef have gained devoted following in the west and K-Fashion and Beauty are highly sought after for their contemporary styles and innovative formulas.
Closer by home we see that premium Belgian Chocolate brands are taken over by Korean investment funds (Pierre Marcolini & MBC) and that the latest edition of the Queen Elisabeth Contest was won by a Korean (classical) singer.
Of course this newsletter will be illustrated by multiple examples I gathered during my trip to Korea in autumn '22 and my recent visit to the Hallyu – Korean Wave exhibition in the V&A museum in London. So enjoy reading and get inspired!
From a country ravaged by war to a cultural powerhouse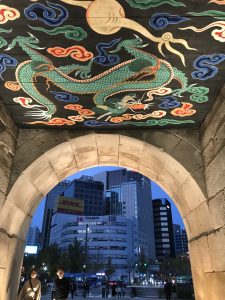 South Korea has experienced a dramatic rise, from a country ravaged by war in the late 1950s to a leading cultural powerhouse by the early 2000s. This remarkable trajectory from 'rags to riches' is marked by governmental control, daring strategies and IT innovations paired with a ppalli-ppalli ethos, where speed is of the essence.
In the 60's Park's military regime focussed on export industries to speed up the country's economic recovery and modernisation process: small companies like Samsung, LG and Hyundai grew into chaebols (large family owned conglomorates). They became the engine behind South Korea's rapid growth.
The regime also fostered a new Korean identity rooted in nationalism and traditional heritage, whilst using censorship to control foreign liberal influences.
This military regime ended abruptly in '79 and was replaced by another military junta till in 1987 the June Democratic Movement signalled the collapse of over two decades of military rule. The 1988 Seoul Summer Olympic games propelled South Korea onto the international scene for the first time as a democratic and economically developed country.
In the 90s South Korean government heavily invested in high speed internet and ICT, driven by the belief that a slow embrace of industrialisation in the late 19th century caused the country's colonisation. When the country was hit by the financial crisis in 1997, unemployed and graduates diverted their time into high-tech start-ups, contributing to a rapid recovery from the crisis, and leading to the birth of a tech-savy nation.
Spotlight on K-Design and K-Fashion
During the Joseon dynasty (1392-1910), maintaining a proper appearance was not seen as a sign of vanity, but rather as a moral obligation that expressed a person's social status and virtue. Nowadays this attitude continued to persist whereby K-beauty combines century old formulas with new ingredients and a catchy design.
One of the great examples I saw in Seoul was the Granhand brand, a cosmetic brand completely build around smells. The Granhand shops were spread over Seoul off the beaten track: in a small side street, in a residential area, in a villa of the 50s, where they try to create a Granhand universe. On each packaging is indicated what the different 'notes' of smell are, and there is a story written on each frontlabel: not about the product nor ingredients, but about the atmosphere of the smell:
What K-fashion is concerned, most parts of Seoul are super stylish with a very well dressed crowd (men and women). Korean designers are levelling luxury with casual street style to form bold yet wearable looks that appeal to a young generation of consumers.
One of the Korean brands that really impressed me was Ader Error, a brand founded in 2014, with slogan 'but near missed things'. The Ader shop is a complete experience of smell, VR, sounds, and it takes 3 spaces before you are in the actual shop. The experience is immersive, the shop is a playground, the service is impeccable and the clothes are pretty wearable.
Spotlight on K-drama and K-pop
K-pop music and K-cinema have transported 'Hallyu-the Korean Wave' to all corners of the world. Most of us will remember the 2012 cathy tune 'Gangnam Style' by singer PSY, that by May 2014 had clocked over 2 billion views on YouTube, forcing Google to recalibrate its play counter. Many more K-pop idols have reached stratospheric levels of fame, with a huge and global fanbase. Transcending generations, these fandoms can mobilise their formidable online infrastructure to unite and engage with socially progressive issues.
When in 1994, sales of Jurassic Park at the box office outperformed that of the 1,5 million Hyundai cars, local Korean government began to support the film industry. This gave a new generation of filmmakers a creative license to experiment resulting into blockbusters like Squid Game and the price winning movie Parasite.
Spotlight on K-food
As DesignRepublic is designing for quite a few food brands, I will devote a special section to K-food and food culture in Korea. Also here the focus is on tradition, style, quality and modern design. Many places try to give the consumer a total experience: a fantastic architecture, a super high level branding and an overly delicious product.
In Seoul I was completely overwhelmed by the Nudake shop: this is a patisserie with a blind facade featuring a big red square. Inside you almost stumble over a black round table showing the selection of perfect cakes they offer, which you can consume in the back of the store.
The beautiful and trendy design does not stop at the border of Seoul. In Gyeongju a provincial city in the south of Korea I visited EYST 1779, House of Choi. Again a total experience and a mix of traditional and very modern design where ice waffels are served.
Conclusion
In the space of 2 generations Korea was transformed from a country ravaged by war in the 50s to a leading cultural powerhouse by the early 2000s. This can be attributed to bold government choices with a focus on (re-)establishing a Korean identity and high tech, a very resilient population which embraced a rapid modernization, a unique blend of tradition and modernity, its visually captivating aesthetics, and the global reach of its entertainment industry.
South Korea, and especially its capital Seoul, was able to charm me completely with its friendly population, striking architecture and inspiring design. I hope Designrepublic can continue to inspire you too!